Yurt award winning NZ design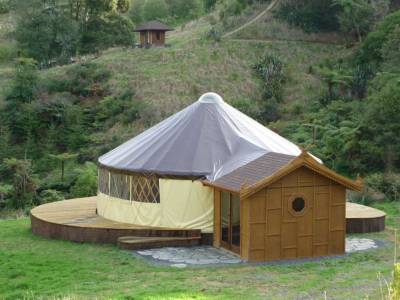 Yurt award winning NZ design
New Zealand council consented yurts
Tasman Canvas is working on an exciting new development as well as rethinking and updating some of the design features of our existing yurts. This means they will be unavailable for purchase for the next few months. Thank-you for your patience, please keep checking here for updates.
Tasman Canvas/Origin Tents Ltd has produced yurts or gers for well over a decade. Design detail has evolved a lot over that period and now comes with the security of qualified structural engineering and compliance with NZ building codes.
Yurts can be used for a dwelling, a sleepout, a yoga or meditation retreat, a bach, an office or a workshop.
Yurts are amazing how quick they can be erected! You can be in comfort in your yurt in a matter of weeks!We make yurt frames ahead of time so we can deliver within a short time-frame once fabric colours, window and door placement is established.
Our standard sizes range are 6m diameter [28.27sqm],
7m diameter[38.46sqm],
8m diameter[50.26sqm] and
9m diameter[63.61sqm], however larger sizes can be organised.
Tasman canvas/Origin tents yurts come as a package that include all components from the ground or floor up. PVC canvas roof membrane with integrated awning for the door area, fully treated canvas wall outers with windows, a full frame kit including a timber door. Yurts can have more than one door and french doors are an option.
Add to this an insulation and lining package, and put it on a variety of floor options and you have a warm, dry, beautiful dwelling .
We can arrange all your building requirements for you, from consent plans to complete builds.