Origin Yurts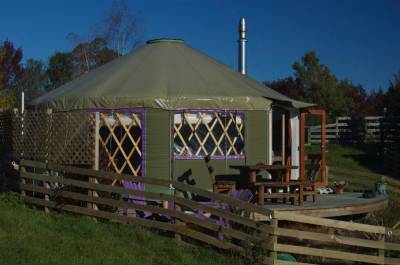 Origin Yurts by Tasman Canvas
Made in New Zealand by Tasman Canvas
Tasman Canvas is working on an exciting new development as well as rethinking and updating some of the design features of our existing yurts. This means they will be unavailable for purchase for the next few months. Thank-you for your patience, please keep checking here for updates.
We believe our yurts are a cost-effective, comfortable and classy alternative to standard buildings.
Some benefits include:
Products which conform to NZ Building Code and can receive Code of Compliance Certificates through local councils.
Tailor-made variety of materials, colours, window placements and sizes to suit any location.
Quick and easy to erect.
Fully insulated. Efficient to heat and cool.
Durable, low-maintenance, time-tested, sturdy structures
Aesthetically beautiful, harmonious with all landscapes
A point-of-difference structure, which can be furnished to whatever level is desired for your market. Spacious for multiple backpacker beds or sumptuous for glamping luxury.
A breakdown of fees associated with Building Consent applications is also available on request. Indication of optional extras such a log-burners, acrylic dome skylights and awnings can also be provided.
We are New Zealand's leading yurt manufacturers and are keen to promote yurts as viable living and accommodation alternatives, given the culture of today's building industry. We can advise you through the application and building process.