Gilad and Dorit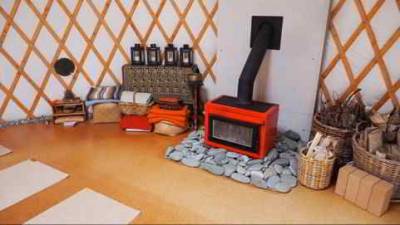 Yurt living
When Gilad and Dorit first visited NZ they experienced yurts in Golden Bay and the Motueka Valley. On first impressions, they were sold.
After migrating to the Tasman region, a yurt was a structure they immediately thought of as an addition to their property. Dorit is a practicing yoga teacher and felt the space would be ideal for both private practice and sessions with friends.
"With Rowan a yurt is flexible in design," says Gilad. This was important, as the requirements for their yurt needed to incorporate structural aspects for the sloping site and specific features for yoga such as limited window area.
Construction was based on a steep site. To keep the inspiring views the yurt platform was fixed to high posts - allowing for entry at ground level while elevated over the gully below. The foundation piles were braced with cross beams and underfloor insulation was inserted between the sub-floor joists. Setting up was quick and completed within a day. Insulation was with pure sheep wool and small issues were solved with Rowan easily and efficiently.
Having the yurt elevated creates a dry space underneath for storing firewood etc. with no need for costly and unstable building platforms to be excavated. As there is no large weight of building, the constructional requirements are less.
The 7m full canvas yurt was built in 2009 and has been a peaceful space for upto 8 people to practice yoga. "Entering a yurt makes you feel comfortable, relaxed and peaceful - the yurt does not require lots of decoration and elements to make you feel this way. Because of its own harmonical beauty you can keep the space - 'zenny'. It is uncluttered with no need for embellishments. They stand alone on their geometry," says Gilad. He would encourage anyone with a need for a writing space, art studio, mediation, pilates.....to create a yurt.
During yoga practice Dorit finds the warmth of the fire creates a comfortable atmosphere and provides a focus for the room. The geometry of the lattice with concentric lines of the rafters feeding to the hub, are positive lines for energy building. This ties with some Central Asian traditions of the hub or tono being the portal through with terrestrial and celestial realms unite.
My Life In A Yurt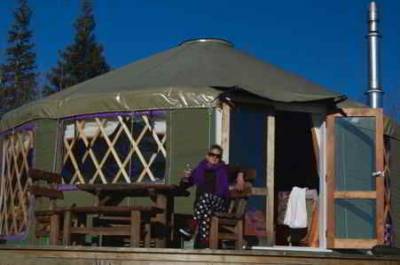 Yurt living
By Hilary P
It was back in the eighties when I first read about yurts - or gers as they are called in Mongolia. I was immediately captured by the concept of living in the round and resolved that one day I would too. Subsequent travels to Mongolia provided a sample experience and cemented the dream.
Leave behind the Gobi Desert, camels, nomads, 'home-killed' mutton stew, fermented mare's milk, the sale of a coastal property in Central Hawke's Bay and the quest for 'an adventure' and fast forward now to the Tasman district. Here, in the realisation of the dream a good friend allows me to share not only part of a paddock in which to establish my small, 'gated compound' but also half of her hayshed - now my kitchen and bathroom.
But first the yurt. Decision made to dismantle long-established community ties and pursue the adventure led to Tasman Canvas and Rowan and Monique. Thanks to their expertise, enthusiasm and willing co-operation, the design and build process, from the first contact to the finished result has been a seamless experience.
Enter the Tasman District Council. As someone whose association with councils has been varied but generally positive I resolved to play by the rules and try to establish my seven metre diameter yurt as a credible dwelling. The makers felt likewise. The process began with a three party on-site meeting to 'set the scene'. Issues that cropped up were the lack of a subdivision clause on the property, my length of tenure and the visibility impact. I gave assurances that the yurt would disappear when I did, and that its round, environmentally friendly green canvas exterior would be indiscernible from the round green water tanks that currently dot the green landscape. Investigations revealed that I could hook into my friend's sewer field and regulations decreed unsurprisingly that the yurt was not to be a kitchen. Nor, unlike the Gobi desert where nomads have 'recycling' dogs, could I exist without a toilet.
Ultimately, my fully insulated and electrically wired dwelling, complete with cast iron fire, became Tasman District Council's first permitted yurt. A satisfactory outcome hopefully for all concerned.
Since December 2013 I have revelled in living life in the round. My space incorporates designated areas for sleep, work - my desk, dining and lounging in front of the fire. Thanks to the richness of rugs, paintings, and numerous objects 'd'art, my environment pulsates with energy. The two metre high walls enable an eye-level art gallery while the soaring, raftered ceiling complete with skylight brings a spiritual dimension which replenishes and uplifts. Glass doors and well-placed windows open to a view which encompasses water, landscaped lifestyle blocks and distant hills. The Tasman district is a beautiful place. Is there a downside? In the winter, food -and wine - must be conveyed sans spillage via the two doors that separate yurt and kitchen. A minor inconvenience.
And now my 'full circle' life has come full circle. The yurt is for sale and my adventure will end to make way for the next adventure. My message? Live the dream.
Marios and Keren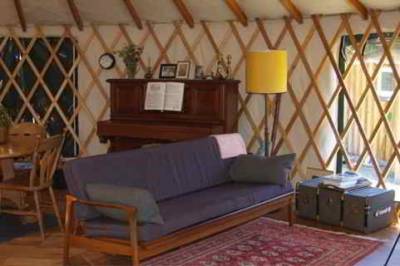 Yurt living
Marios and Keren bought a 1950s cottage on a 1/4 acre section in rural Tasman as their first venture into home ownership. They soon realised buying a house was a mistake. Having lived in small spaces, including a Kombi, house bus and A-frame bach, they concluded that they would prefer to spend their equity on a larger piece of land. The left-overs they would put into buildings.
Without wishing to commit to a large mortgage they looked at affordable options which would not compromise on comfort, aesthetics or practicality. They wanted to play by the rules and live in a structure that was assured, without the spectre of a council turning up one day and red-stickering their home. At the time, they met with Rowan and Monique at Origin Yurts and the idea was born.
Visiting other yurts was a help to visualise the size, determine layout and get a feel for a space neither had any experience of. Immediately the feeling of peace, the cosy atmosphere and striking geometry were a draw. On further investigation, the efficiency of heating (and cooling), flexibility of window placement and low environmental footprint sold them to the idea.
Once advice had been sought on regulations and the Building Code, they were able to design a separate bathroom (a conventional structure on a concrete pad, built of local timber). The yurt would serve as a living and sleeping space for their family of 4.
They engaged Origin Yurts to build the yurt structure, while a neighbouring builder and Marios set the pile layout, placed the sub floor and screwed the plywood floor in place. Over a sunny winter week half the valley came for a slice of the spectacle, as frame, lining, insulation and cladding went up. Other yurt-living friends helped too.
It took about a year for the placement of all the elements to solidify and the fine-tuning of furniture to make the space efficient and workable. With innovative use of curtains the space now offers enough privacy for their children, while maintaining a coherence for the family unit. Having other buildings like a caravan for the children's art space and sleepovers, a shed and bathroom/laundry, together with a few acres for growing food - they never feel crammed, even on wet winter weeks.
The cost efficiency of their set-up allows a good balance for life, with family time, community activities and friendships.